Winnipeg has one of the largest and most well preserved collections of hand painted signs in North America.

Ghost signs are hand-painted, outdoor ads that have been preserved on sides of buildings. They are also known as fading ads or brick ads and were prevalent from the 1890s through to the 1960s. As outdoor advertising mediums evolved, ghost signs became a less popular way of advertising products and services and were replaced by billboards and vinyl banners.

Our downtown core is covered with advertisements and store signs from years gone by that were painstakingly hand painted by highly skilled artists. While ads, store signs, and billboards certainly have changed since the turn of the century, the artform is still kept alive by a few individuals and its history is captured on the sides of buildings and signs we pass each day, often without noticing.


Get to know everyone ⤸
Craig Winslow
Matt Cohen
The Travelling Sign Painters
Rick Wagner

Listen to the soundtrack ⤸
Matt Schellenberg

Dive back into some inspiration ⤸
Aaron Draplin Does Winnipeg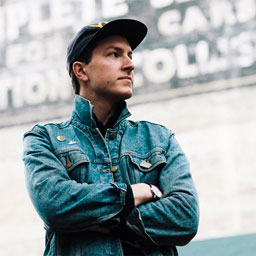 Craig Winslow brings his Light Capsules projection project to Winnipeg's Exchange District, with five Light Capsules in one night.
"I've never tried to do this many projections in one night before, that's for sure"
Craig also loving modelled the SX Ham Can, which you can enjoy here:
Writing On The Wall took place shortly after Craig's Adobe Creative Residency, and he has not been idle since then! Check out his work with Brilliant, a permanent installation at The Neon Museum, as well as his latest @craigwinslow on Twitter and Instagram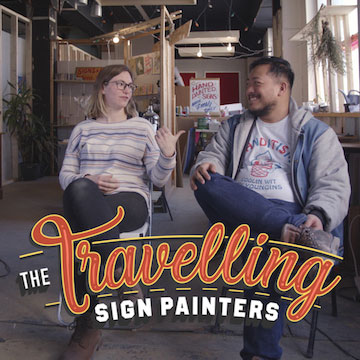 You can see how busy The Travelling Sign Painters have been @thetravellingsignpainters on Instagram, including many helpful signs throughout the COVID-19 pandemic.
While running his commercial print sign at Signmeister for many years, Rick Wagner also hosted hands-on evening classes in hand lettering under the name Grasshoppers, for the love of the art and craft.

The soundtrack for Writing on the Wall was written by Matt Schellenberg from Royal Canoe. This was the first time we collaborated with Matt on a feature-length documentary. We love working with him because… He has a knack for hitting the perfect tone and helping us drive our stories forward.
Draplin Does Winnipeg
Aaron Draplin (@draplin), the celebrated graphic designer from Portland, Oregon, stormed through Winnipeg in November 2015, thanks to a collaboration between the Graphic Designers of Canada (Manitoba Chapter) and New Media Manitoba. For many, the Draplin Design Company Road Show on Nov. 6 was the highlight, but the man known as one of the most important designers in North America also had some time to take in some local flavour. We got the chance follow him through the culturally rich Exchange District of Winnipeg with Matt Cohen from the Advertising Association of Winnipeg to document their time admiring hand-painted signs, admiring hand-painted signs, and visiting Tiny Feast – the local shop that sells Fields Notes – and junkin'.
Special thanks to GDC Manitoba and New Media Manitoba
💔 We miss you, Tiny Feast!